Fairbanks Ultegra Scale
| | |
| --- | --- |
| | |
| Ultegra with flat top | Ultegra with ball top |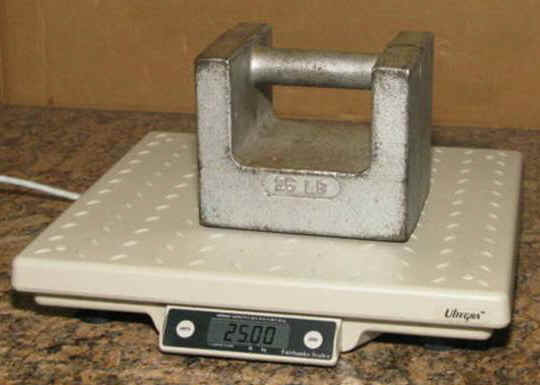 Fairbanks Ultegra with flat top
Fairbanks'® UltegraTM Series General Purpose Bench Scales are rugged and dependable. These low profile scales can be used in a variety of non-washdown applications up to 150 lbs and feature Fairbanks' exclusive IntalogixTM Technology. Plus, there's no assembly required. It's ready to use right out of the box!
These scale's output is compatible with all UPS shipping software. You can quickly download some versions of the UPS software at www.ups.com. UPS' latest version, 6.0, can be ordered online from the UPS website.
Fairbanks Intalogix Technology ensures that these bench scales offer higher accuracy and resolution. The Ultegra Series will continuously monitor itself and alert the operator of any problems with an error message on the display.
Made of high impact ABS composite material, the Ultegra Series scales are both lightweight and extremely rugged. Replacing Model 70-2453-4, these bench scales feature reinforced molded structural ribs for maximum strength for up to 300% overload protection.
These bench scales protect your profits by providing accuracy to 0.02 lbs. For packages greater than 60 lbs, the scale automatically shifts to a division size of 0.05 lbs.
SPECIFICATIONS
Capacity
150 lbs (68.2 kg)
Platform Size
Flat top model
14" x 14" x 2.4"
Roller top model
14" x 14" x 3.57"
Division Size
150 lbs/68.2 kg x 0.05 lbs/0.02 kg
Output
Fixed format RS232C
(includes 8' cable)
Primary Display
0.25" high LCD
Remote Display
0.5" high LCD with zero and unit keys; and an 8' cable
Model
Capacity
Platform
Price
Used Ultegra with flat top

60 lb x 0.02 lb
150 lb x 0.05 lb
14" x 14"
$235
free shipping UPS ground
Ultegra flat top
60 lb x 0.02 lb
150 lb x 0.05 lb
14" x 14"
$481
Ultegra roller top
60 lb x 0.02 lb
150 lb x 0.05 lb
14" x 14"
$615
Ultegra flat top with USB
60 lb x 0.02 lb
150 lb x 0.05 lb
14" x 14"
$550
Ultegra roller top with USB
60 lb x 0.02 lb
150 lb x 0.05 lb
14" x 14"
$702
Options
Remote display
8 ft cable
$130